"But who am I, and what is my people, that we should be able thus to offer willingly? For all things come from you, and of your own have we given you"
[1 Chronicles 29:14].
The Stewardship Committee
The Stewardship Committee at COS is a ministry in which the team works with the leadership and the congregation to spiritually engage and plan the programs we can support annually.   Stewardship reflects the gratitude and generosity we have been given by God and that we can joyfully return a fraction of the abundance resources we have been blessed with in the sustainability of our Church.   The committee works with the congregation to shape our personal responsibility and commitment to God in terms of contributing our important gifts of time, talent, and treasures.  The committee is not just about funding our operating budget of our beloved church, but to ensure an inclusivity of each member an opportunity to contribute as faithful stewards thereby, growing in their Christian life. 
At COS, the stewardship committee is led by the rector, and includes several parish members from all services to works on various projects and assignments by the church leadership.  The team works with the church leadership to develop annual themes, sending pledge cards, thanking, and reaching out to members about making a commitment to support and expand our church missions.  Stewardship at COS is a year-round calling, the committee works during the year to encourage parish members to be accountable, collaborate with the finance committee, work with the priest on stewardship campaign message and education. During the fall, the committee culminates the season with the collection and offering special thanksgiving prayers of pledge cards from our every member canvas, "Harvest Sunday" celebration of our abundant blessings follow by the church hosting coffee hour and a bake sale.
If you are interested in joining the Stewardship Committee, please contact the church office.
If necessary, click here to update your contact information.
If you prefer, you may download and print a hard copy of the pledge card from here.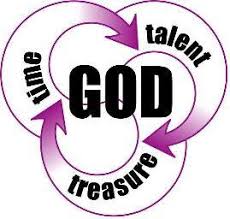 What I do have, I give to you in the name of Jesus Christ.
[Taken from Acts 3:6.]