Then the king commanded, and they quarried great stones, costly stones, to lay the foundation of the house with cut stones
[1 Kings 5:17].
The Building
Our edifice is often described using words ranging from "beautiful" to "magnificent" and even "majestic." At any rate, it is an impressive structure of which we are quite proud.  From any direction, one can see the cross, symbolic of our Christian faith, crowning the steeple that is our bell tower.  The building is surrounded by manicured lawns, beautiful flower gardens, decorative shrubbery and wonderful shade trees which all make way for an adequate parking lot complete with handicap slots.
Inside, there are three levels.  The main level comprises the sanctuary and nave, over-looked by a balcony.  There are also offices and a conference room on this level.  On the upper level are multi-purpose rooms of various sizes, while the lower level comprises more multi-purpose rooms, a commercial kitchen and a spacious hall.  There are restroom facilities on all levels.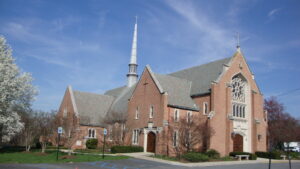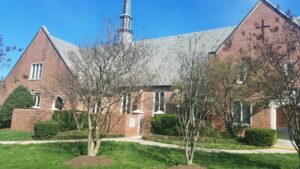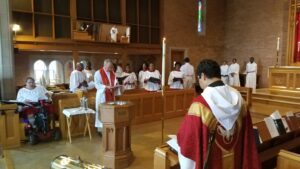 Nave and Sanctuary
This, the main level, is the primary worship area of the church.  The main door opens into the Narthex leading to the main seating area, called the Nave.  The front area is the Sanctuary where the altar is situated and there is a seating area for additional clergy and the choir. 
This level also houses a Chapel — a smaller version of the Nave and Sanctuary — where small services and prayer sessions are sometimes held.  Like the balcony, it also provides for over-flow seating on extra crowded occasions.
On Youth Sunday when the sermon is directed to the young congregants at the 10:00AM service, the youth gather around the alter in the Sanctuary for the Holy Mass.  Those in this special area are also the first to receive Holy Communion.
For the reading of the Holy Gospel, the acolytes lead the priests from the Sanctuary to the Nave.  There, in the center aisle among the people, the Gospel of the Lord is read.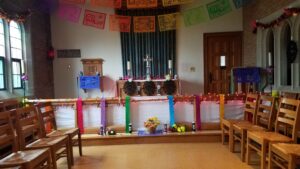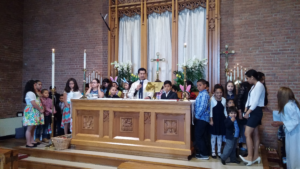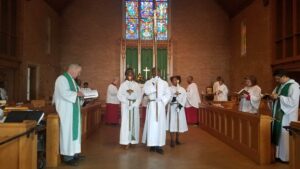 Undercroft
Although the Undercroft comprises the entire lower level as described earlier, when we use this term, the reference is normally to the grand hall, kitchen and restrooms.  The area is quite adaptive, lending itself to easy transformation to suite a variety of functions and occasions, whether it be an in-house affair, a community event, a private event, or another church. Read more…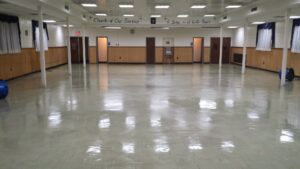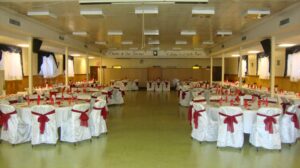 Playground
The latest addition to the COS plant is the playground that was a long-standing vision of the COS Men's Organization.  With the assistance of the COS Women's Auxiliary and selected members of the general congregation, the project was completed in January of 2020, after the ground-breaking ceremony in November, 2019, followed by the necessary preparation.  See the opening.