Volunteer... Nominate... Vote...
Here is a saying you can trust. If anyone wants to be a leader in the church, they want to do a good work for God and people
[1 Timothy 3:1].
Elections Meeting
Our annual Elections Meeting will be held on  Sunday, December 06 via a virtual forum. We will be voting on three (03) new Vestry Members and the Rector's Warden.  The chair of the Elections Committee is currently occupied by Abdullah Skerritt who is ably assisted and supported by Sandra Molina, Vice Chair, Kenneth Egbuna, Pelah Gittens, and William Attoh.
The committee is hard at work to ensure that the elections are smoothly conducted during the uncertainties and novelties of the COVID-19 pandemic.  This includes making accommodations for in-person voting, absentee voting and electronic voting, all within a safe and secure space.  As such, we urge our eligible members to participate in the process and to check with the Church office or Election Committee to ensure that you are registered on the voters' list.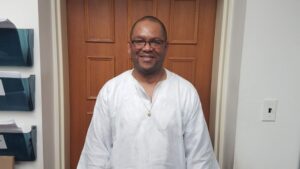 Positions to be Filled in 2020
Vestry: Four positions
Rectors Warden: One position
Diocesan Delegate: One position
Alternate Delegate: One position
The COS Executive thanks the members of the congregation for participating in this all important activity of electing our leaders and representatives.  We also thank you for voting to Amend the Bylaws in 2019.
Additionally, we thank the Elections Committee for a spectacular job; the Vestry members who supervised; the Parliamentarian; the Givings Recorder; and the Wardens for their  oversight.  Congratulations to all of you, as well as the elected members.
Commissioning of the newly elected is scheduled for December 22, 2019 during the 10:00AM service.